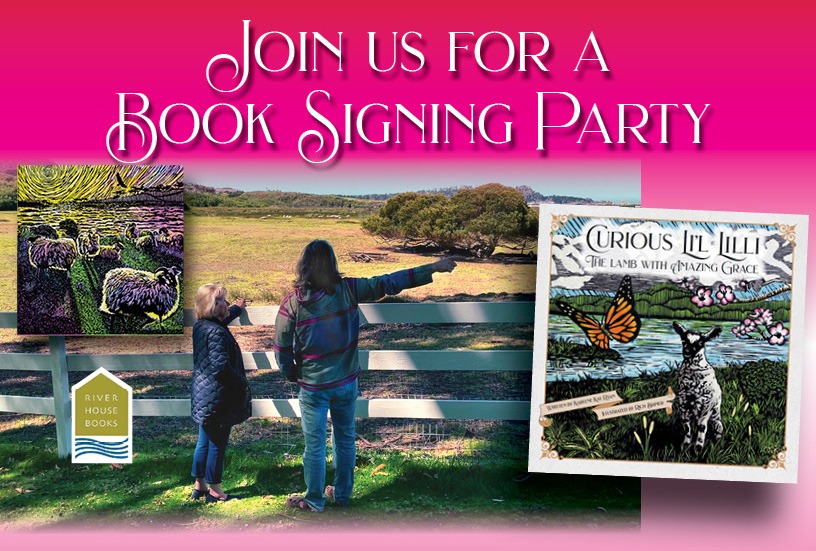 Book Signing Party
at River House Books, Carmel, CA
Sunday, October 8, at 1 p.m
Local author, Karlene Kay Ryan and fine artist and illustrator, Rich Brimer (founder of Carmel Visual Arts) invite you to a presentation and book signing of their collaboration on the Children's Picture Book: "Curious Li'l Lilli, A Lamb of Amazing Grace." The event is on Sunday, October 8, at 1 p.m. at River House Books in The Crossroads Carmel. 243 Crossroads Blvd, Carmel-By-The-Sea, CA 93923
Curious Li'l Lilli is a delightfully written and illustrated story that shows Li'l Lilli learned many things with her relentless curiosity. However, when she gets in some curious predicaments, her act of faith reminds us that all will be well when there is a shepherd (Jesus, Father, Uncle) to lead and care for her. Relating to the care of a lamb brings the message to a visual understanding.
Hand-carved linoleum block illustrations by Rich Brimer are inspired by local scenery which includes magnificent Monterey Cypress trees and lambs resting in the field of the Mission Ranch.
Mark your calendars for Sunday, October 8, 2023. See you at River House Books at 1 pm.